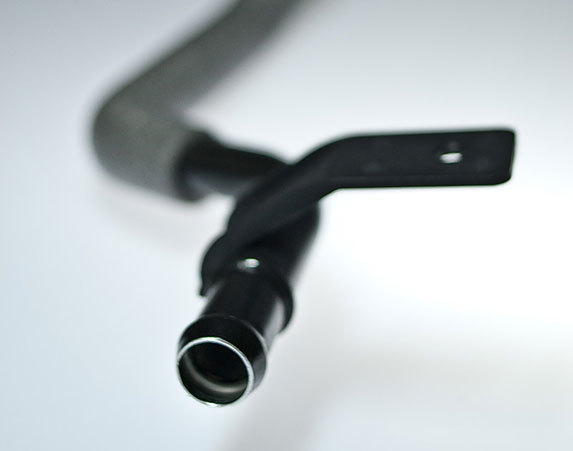 Because quality ensures safety – compressed air pipes from SMA metalltechnik.

You need to be able to handle pressure.
We at SMA Metalltechnik can do just that – in both senses of the words. As an experienced, worldwide-active company we know the special features and high requirements of the automotive and commercial vehicle industry. A compressed air pipe is much more than just a pipe connection between the compressor and the related consumers such as the brakes or the suspension system.
We manufacture compressed air pipes from aluminium or steel with precisely fitting connectors mainly for commercial vehicles. As always in vehicle construction, precisely fitting components and assemblies have to be supplied that meet the specifications exactly with regard to safety, stability and quality. Of course we also prefer a lightweight construction for compressed air pipes, because every bit of weight that is saved improves the efficiency of a vehicle noticeably and reduces CO2 emissions.
Compressed air pipes from SMA Metalltechnik compensate tolerances and temperatures and are corrosion-resistant. Using state-of-the-art machines we manufacture compressed air pipes of an extraordinarily high quality that are characterised by minimum connections tolerances. The fitting accuracy of our compressed air pipes is well known and is regarded as exemplary.
Gives a good feeling – our know-how for compressed air pipes.
We have achieved a good position in the market with top-class products and our grown expertise in the development and manufacture of compressed air pipes. We are strengthening our position in the market further with high quality and reliability.
Exact bending, highly impermeable soldering and standardised connection technology are the bases for precisely fitting compressed air pipes. We support our customers with development and regard highly complex designs in the tightest mounting spaces as a challenge. Our production facilities are equipped superbly and highly automated. That's why SMA Metalltechnik combines cost-effective production with top quality for quantities both large and small.
For compressed air pipes, too,
we attach the highest importance to clean products without production residues and meet the strictest cleanliness requirements through special washing methods.
At a glance – why SMA Metalltechnik.
We set standards with our exemplary customer orientation.
With our on-site service (Resident) we are directly involved in the customer's development process and can ensure efficient design implementation on the spot.
As an innovative mid-size company we set the standard in the compressed air pipe sector of the market. From development to manufacture, we are well known for short routes and personal co-operation.
However, we don't shy away from the proverbial "extra mile" when it's about optimising the product. The benefits that we at SMA offer our customers thanks to our own tool and prototype manufacturing become apparent when – in the truest sense of the words – the first joint steps take shape.
Through integration in the INDUS we can also fall back on a broad network of different branches of industry – quickly and uncomplicatedly.
Put your trust in our experience when it comes to compressed air pipes – it pays off.
Overview of performances:
● SMA Metalltechnik prefers lightweight construction and is always striving to reduce CO2 emissions.
● SMA Metalltechnik develops and produces compressed air pipes that are corrosion-resistant, temperature-compensating and tolerance-compensating.
● SMA Metalltechnik works precisely and with reliable quality. We ensure very high fitting accuracy with minimum connection tolerances.
● SMA Metalltechnik meets strict cleanliness requirements through special washing methods for compressed air pipes.